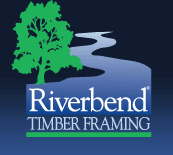 (PRWEB) August 25, 2011
The Lefebvre home was not designed primarily to achieve high energy ratings, but instead to be a reflection of the homeowners aesthetic style, while reducing energy costs at the same time.
"We were trying to bring old Quebec City to Calgary," said Lefebvre. "We love the architecture of old Quebec City, so the house is designed with those kinds of elements in mind: lots of rock, timber frame, and large porches in the front and back."
So how did they achieve a rating of 86? In addition to the traditional mortise and tenon joinery of the timber frame, the Lefebvre foundation was built with Advantage insulated concrete forms (ICFs) and enclosed with Insulspan structural insulated panels (SIPs). These super-insulating products are designed into all Riverbend homes to work seamlessly with the framing. Additional products used within the project include Plasti-Span insulation under the basement slab, a passive solar design and radiant heating.
The result is that the Lefebvres 6,100-square-foot home costs roughly $ 200 per month to heat in a cold climate. In addition to lower energy costs, the Lefebvres high rating qualifies them for an energy-efficiency rebate of $ 10, 000. Brent Cooper, Riverbends Western sales manager, worked with the Lefebvres on the project and said hes proud of the homes rating.
What I think is most exciting is that they were able to accomplish it primarily because of the insulating products Riverbend uses in their building system, he said. But at the same time, they didnt have to give up their original timber frame design concept.
Cooper said this level of energy efficiency is unique to Riverbend timber frame homes.
I know of no other timber frame company in North America with the ability to provide a building shell of this standard, he said. He added that the tight building shell allows Riverbend customers to enjoy the beauty of their open timber frame design, including vaulted spaces, without increasing their energy costs.
Homeowner Steven Lefebvre said that the flexibility of design and the use of a strong family of products were two of the reasons he chose Riverbend to create his custom timber frame home.
One of the reasons I picked Riverbend Timber Framing was that the ICFs, timber and SIPs had to fit together perfectly, Lefebvre said. It proved to be a very wise decision.
###
Marketing Online